Legacy / Events
Events
2017
Summer 2017 Isadora Duncan Dance Workshop
August 13-16

at Mills College
Join us for the Isadora Duncan Dance Foundation's summer workshop in Isadora Duncan's birth state, California! The workshop includes Isadora Duncan technique and repertory classes. Evening activities can include video screening, book discussion, tea with photographer Margaretta K. Mitchell, and a tour of the Berkeley Hills (Greek Theatre-U.C. Berkeley, The Temple of Wings, Berkeley City Club, and other landmarks of historical interest).
Location: Mills College in Oakland, California
Description:
Classes will be taught by Lori Belilove, the world's leading teacher and performer of the dances of Isadora Duncan, guest artist Adrienne Ramm, former soloist of The Isadora Duncan Centenary Dance Company, and other guest artists TBA. Students will work to increase their technical and expressive capabilities in a positive and supportive environment. The workshop will provide an immersion into Isadora Duncan technique and repertory.
Students who participate in the entire workshop will receive a Letter of Completion from Lori Belilove, Artistic Director, Isadora Duncan Dance Foundation.
Schedule:
The workshop begins immediately after the Isadora Duncan International Symposium at ODC in San Francisco.

Schedule is subject to change.

Tuition: $300 for the entire workshop. It does not include travel, housing, or meals.

Space permitting, students unable to attend the entire workshop and/or interested in technique classes only are welcome to technique classes, August 14-16,

10am-12:30pm

. It is $30 per class; $100 per day.

To Register:

Download the registration form

HERE

.

Scholarship:

A limited number of scholarships are available for students of Mills College. To apply,please email

This email address is being protected from spambots. You need JavaScript enabled to view it.

your resume and a letter of intent, stating your dance and/or teaching background and interest in the workshop. Scholarship application deadline is June 1.

Questions?

Please email: tina@isadoraduncan.org or call: 212-691-5040.

Can't make it to California? Join us in New York!
Our summer workshops in New York City will be held June 26-July 1 & July 24-29, 2017. Information to come!
---
Mark your calendars and be sure to wear some flowers in your hair, because the 2017 Isadora Duncan International Symposium will be

August 10-12th

, at ODC in San Francisco.
This will be a wonderful opportunity to hold the Symposium in the city where Duncan was born, coinciding with the 140th anniversary of her birth. The studios at ODC are beautiful, and set right in the Mission in the heart of the city.
We also welcome two new Steering Committee members, Marybeth Hraniotis and Marie Carstens, to our circle. (Read more on the energy and expertise they'll be bringing here)
In the coming weeks, we will be organizing a wider team for 2017. Please let us know if you are interested in getting involved, and of course, stay tuned for more news on the theme, registration, call for proposals, and more.
Warmly,
IDIS Steering Committee
Meg Brooker
Marie Carstens
Valerie Durham
Marybeth Hraniotis
Julia Pond
Jennifer Sprowl
---
Summer 2017 Isadora Duncan Dance Study Tour
July 10-19

in Athens, Greece
Join Lori Belilove for an inspiring 10-day residency at The Isadora & Raymond Duncan Dance Research Center in Athens, Greece in July 2017 with daily morning classes and evening choreographic workshops in the Dance of Isadora Duncan. Greek art, mythology, and philosophy greatly influenced and inspired Isadora Duncan's dance.
We will travel as a group to visit museums and archeological sites in Athens and fully immerse ourselves in the rich art, history, and culture of Greece. We will read writings of Isadora, Greek poets and philosophers, and study ancient Greek art and history. The notes and sketches from these observations will help in the creation of new movement work.
The residency will also include technique classes for local children, open to those interested in teacher training. The evening sessions will explore dances created by Isadora Duncan reflect Duncan's studies of ancient Greek art. Dancers participating in the choreographic workshop will perform in an informal studio showing on the last day.
To fully experience the magic of Greece, we will dine under the stars under the backdrop of the Acropolis, explore the neighborhoods (shopping), and rest in comfortable accommodations (pool).
COSTS ~
$1,000 total per person for all classes, museum visits, lecture ~ purchased through the Duncan Foundation Inc.
$1,000 estimated plane fare arranged by each respective person
$140 single / $155 double room per night at Hotel Divani ~ suggested hotel with view of the Acropolis and includes breakfast
Estimate for lunch, dinner and alcohol not included here ~ program dates and details are subject to change
Partial program packages are available upon request
Interested? Contact the Duncan Foundation today!
212-691-5040;

This email address is being protected from spambots. You need JavaScript enabled to view it.
---
Fall greetings!
This summer
we toured to Greece, where we were joined by students from the U.S., Puerto Rico, Brazil, and Portugal. Read about it
HERE
, and mark your calendars to join us next year,

July 10-21, 2017
!
We welcomed students nationally and internationally from Canada and Israel at oursummer workshops. Gabrielle C. wrote to us:
From the first technique class, I could tell I was going to have a revelatory week. The concentration on breath, authenticity of movement, and organic shapes were extremely satisfying.
Emily's grounded energy was appeasing and helped me surpass my nerves and really melt into the movement. Beth is an incredible class facilitator and has what seems to be boundless energy. What to say about Lori, other than it is not hard to understand why she is the artistic director and has enjoyed so many years as THE reference on Duncan technique and choreography. I was motivated and excited when working with her and her wisdom of movement and openness made for a wonderful learning experience. Though I was only in town for a week of the summer intensive, I already felt by my last class that I was profoundly moved by what I had learned in so little time.
I was also blessed to watch some parts of the repertory work, the quality of which was astonishing. The beauty of the Tanagra figures and excerpts from repertoire were breathtaking. My fellow students bounded through the dances with the beauty and effortlessness of 20 young Aphrodites.
On top of learning this new form of movement, I was delighted to make my own tunic and explore the history of the Grecian Tanagra figures at the MET. For a hip hop dancer from the East coast of Canada, this could not have been more outside of my comfort zone, nor more relevant and exciting as a mature dancer navigating the changes in my maturing body.
My heart and body are filled with love, light and hopefully, a bit more grace.
We performed at our favorite outdoor venues, including Old Westbury Gardens, Alice Austen House, Battery Dance Festival, Fort Tryon Park, and Untermyer Park, reaching over 3,000 audience members.
Missed us this summer? Not to worry. Click HERE to watch our performance of Ouverture, choreographed by Artistic Director Lori Belilove.
Finally, please see our upcoming performances, tours, classes, and workshops. We welcome you!
October 10-14 | Randolph College

Artistic Director Lori Belilove returns to Randolph College for one week. She will teach the Duncan technique and repertory to students at the Dance Department. Guests are welcomed to technique classes. Contact IDDF at 212-691-5040;

This email address is being protected from spambots. You need JavaScript enabled to view it.

.

October 14

| 92nd Street Y




Lori Belilove & The Isadora Duncan Dance Company will perform as part of

Dance and Myth: American Dance Guild at 60 Honors Jean Erdman at 100

. $20 general / $25 premium.

BUY NOW

November 7-8 | Franklin & Marshall College

Artistic Director Lori Belilove returns to Franklin & Marshall College. She will teach the Duncan technique to students at the Dance Department and offer a lecture/demonstration at The Phillips Museum.

November 12-20 | Salvador, Bahia, BRAZIL

Artistic Director Lori Belilove returns to

Escola Contemporânea de Dança, an IDDF-affiliate school in Salvador, Bahia. She will teach master classes to children, adults, and (pre-)professional dancers and perform as part of Jornada de Dança da Bahia. LEARN MORE

November 28 - December 5

| Shenzhen City, CHINA

Lori Belilove & The Isadora Duncan Dance Company will make its debut in China on

December 4

at Shenzhen Poly Theatre. This tour is co-presented by the Shenzhen Zhongsen Culture Media Co., Ltd. and the Duncan Dance Academy (DDA). DDA is an IDDF-affiliate school headquartered in Shenzhen City, where Lori Belilove was appointed Artistic Director in October 2015.

LEARN MORE
| | |
| --- | --- |
| | Isadora Duncan Dance Foundation, 141 West 26th Street #3 , New York, NY 10001 |
---
Festival for the Reinstatement of the Delphic Games & The Delphic Ideal Young Laureate Program
Five days and six nights enlivening the 'Delphic Ideal' in art, ethos, mytho-poetry, scholarship, and sport to encompass mind, body, heart, spirit, and soul concerns, via lectures, seminars, archaeological site visits, roundtable discussions, indoor workshops, dramatic natural settings, and performance events. Optional Athens, Greece trip extension May 23 - 26.Open to all levels and all ages 14 years and up. Register at www.idii.org.
---
Formation « Dance of Being© »
Masterclass
at Isadora Duncan House
Contact : Fabienne Courmont
Creator of Dance of Being©
President Avignon section C I D
+33 677 14 10 80


This email address is being protected from spambots. You need JavaScript enabled to view it.



www.dansedeletre.fr
---
Dear Friends of the Studio,

On

Sunday, March 5th

, we will present the first performance of our 20th anniversary season at the Studio! We are very excited to present the Salon Concert Series No.1, featuring the talented David Chernyavsky and Mutsuko Dohi. Please see details below.

Looking forward to seeing you!

For tickets or reservations, please call or email us.




The Mary Sano Studio of Duncan Dancing

This email address is being protected from spambots. You need JavaScript enabled to view it.

~ Salon Concert Series ~

No. 1

Violin and Piano

Sunday, March 5, at

6:30 pm

(doors open at

6:00 pm

)

David

Chernyavsky (Violin- SF Symphony Orchestra) and Mutsuko Dohi (Pianist) will perform Beethoven's "Spring Sonata" and Franck's "Sonata in A major" as well as selected short pieces with guest performer Mary Sano.

Tickets: Adults: $30, Seniors(65+)/Children under 18: $20, Children under 10: Free. Tickets include complimentary refreshments.
Help us make our 20th Anniversary season truly special!
Click Here to see how to support us!
Mary Sano Studio of Duncan Dancing
245 Fifth Street, Studio 314
San Francisco, California 94103
USA
Phone:
415-357-1817
Mary Sano,
Duncan Dance Tokyo Studio
〒 101-0021
Tokyo, Chiyoda-ku Kanda

1-18-19
---
Music and Dance on the Transformative Power of Love at the Kosciuszko Foundation
Frédéric Chopin Isadora Duncan
&
The Theater of Love
Saturday, February 11th, 5 O'Clock PM
at The Kosciuszko Foundation, Inc.
15 East 65th Street, New York, NY 10065
The Kosciuszko Foundation in collaboration with the Isadora Duncan International Institute in celebration of its 40th Anniversary Year (1977 – 2017) proudly present Frédéric Chopin Isadora Duncan & The Theater of Love: Music and Dance on the Transformative Power of Love with Jeanne Bresciani and The Isadora Duncan International Institute Dancers and Daniel Schreiner on piano, Saturday, February 11th, 2017 at 5:00 PM.
It will be an evocative rendering on the beauty and magic of love as a human value of infinite range and everlasting force. What better weekend than as we await Valentine's Day to illuminate, radiate and penetrate to the heart of art in this festive performance and reception? The evening will highlight masterpieces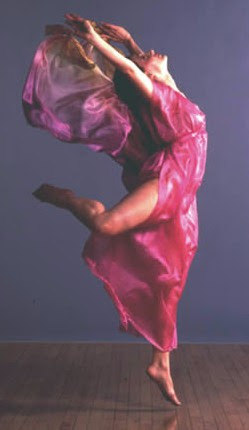 that vibrate at the highest emotional pitch chosen from the vast treasury of Isadora Duncan's original dances and from new works in solo, duet, and small group performance accompanied live by the pianistic virtuosity of nationally acclaimed Daniel Schreiner, International Keyboard Institute and Festival soloist, finalist in the Eastern Music Festival Piano Competition, and IES Abroad Vienna Music Program awardee.
Frédéric Chopin Isadora Duncan & The Theater of Love explores the relationship between seamless harmonies, breathtaking tensions, unrivaled elegance and rapturous fusions in the intense crescendos and decrescendos of art, life and love present everywhere in Chopin's music and Duncan's dance.

Admission: $30 Full Admission / $20 for KF Members, Seniors and Students
Seating is limited, first come, first served.
Copyright © 2017 Isadora Duncan International Institute, Inc., All rights reserved.
You are receiving this email because of your interest in our organization.

Our mailing address is:

Isadora Duncan International Institute, Inc.

150 East 61st Street

Suite 11C

New York

,

NY

10065
---
2016
WORKSHOP DE DANÇA MODERNA NA TÉCNICA DE ISADORA DUNCAN
Com Lori Belilove (EUA) e Fatima Suarez (BA)
17 a 20 de novembro (terça a sexta)
10h30 às 12h00
Espaço Xisto Bahia
R$ 200,00
Público-alvo: dançarinos de nível intermediário a avançado (ao menos três anos de experiência)
Vagas: 30 (em havendo número excedente de inscritos, haverá seleção dos participantes pela avaliação do formulário)
Lori Belilove: Artista, dançarina e diretora artística da Isadora Duncan Dance Foundation, de Nova York, Lori Belilove foi aluna particular de Irma Duncan até sua morte, em 1977. Lori estudou individualmente e se apresentou extensivamente com Hortence Kooluris e Julia Levien. Recebeu treinamento intensivo em ballet clássico e nas técnicas modernas de Doris Humpfrey e José Limon. Tendo se apresentado por todo o mundo, é uma das maiores referências na manutenção do legado da mãe da dança moderna. No filme documentário, lançado em 1989, "Isadora Duncan Movement from the Soul", Belilove é a primeira bailarina, dançando solos. Em 2003, estreou na Broadway o espetáculo "Isadora no Apologies", sendo elogiada pela crítica especializada americana como uma das mais extraordinárias solistas já vistas.
Fatima Suarez: Diretora do Contemporânea Ensamble, formou-se em Ballet Clássico na Escola de Ballet do Teatro Castro Alves. Especializou-se em dança moderna e coreografia na London Contemporary Dance School e no Laban Centre of Movement, ambos na Inglaterra, e na Martha Graham Dance School e Merce Cunningham Dance Foundation, em Nova York. Ainda em Nova York, conheceu sua mestra na técnica de Isadora Duncan, Lori Belilove, estabelecendo um intercâmbio permanente entre a Isadora Duncan Dance Foundation e a Escola Contemporânea de Dança, instituição que criou em 1990 e cujos espetáculos têm sua assinatura como coreógrafa e diretora. Como bailarina e coreógrafa, atua também no Mantra Cia. de Dança, desde a sua criação, em 1987.
http://www.jornadadedanca.com.br/programacao-educativa/workshop-de-danca-moderna-na-tecnica-de-isadora-duncan.html
---
Dear Friends of Duncan Dancing,

How was your summer?

We hope you had a good season and you are happy and healthy!

Thank you to all of you who were able to join us for our 19th annual Dionysian Festival in May. It was another great experience for all of us! (See pictures below)

Today(September 14th) is an important day in Duncan history, as it was on this date that Isadora died tragically in Nice, France 89 years ago. My mentor and teacher, Mignon Garland, passed away on the 15th of September, 1999. She taught me so much about Isadora, her dance, and her life; and I will forever be grateful to her.

It is often around this time of year that I look back, and forward; remembering the great tradition of this art form and finding inspiration to continue in its exploration and expansion. I am currently looking at theaters in San Francisco where we could celebrate our company's 20 year anniversary and reaching out to collaborators to decide which pieces we would like to share and expand upon.

We currently have two classes ongoing as well as private classes available.

Our fall session of Duncan Workshops are on now until

October 9th

.

Children's Classes has just started on Sunday, September 11 for 4 weeks.
Feel free to join us for the rest of the season, or drop in for a single class!

Best wishes,

Mary Sano

The Mary Sano Studio of Duncan Dancing

To register for classes or if you have any questions,

please contact us by email at

This email address is being protected from spambots. You need JavaScript enabled to view it.

or call us at

| | |
| --- | --- |
| | Mary Sano Dance Studio, 245 5th Street, Studio 314, San Francisco, CA 94103 |
---
We did it all! Our "Isadora Pilgrimage", as we called it, reflecting Isadora's exact words when she first visited Athens in 1902, saw us performing in numerous venues, teaching at Isadora's House, climbing
the Acropolis rock, dancing around the Theatre of Dionysius, visiting museums, and taking excursions to archeological sites.
We ate, laughed, complained of exhaustion, had tea in tunics at Hotel Grande Bretagne (Isadora's favorite hotel), fought the wind at the Temple of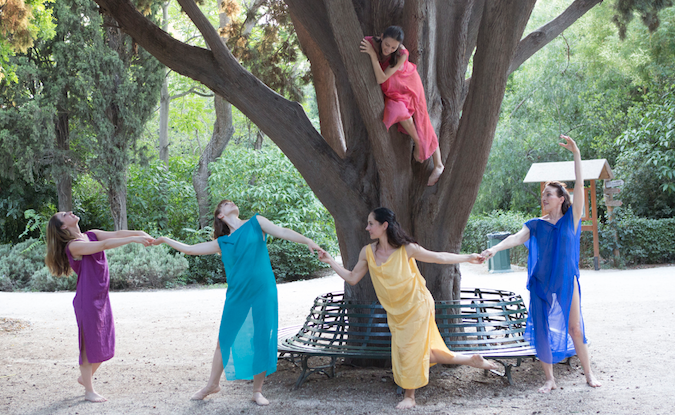 Poseidon, played in the trees at The Zappeion Gardens, and made friends
though the CID UNESCO World Congress on Dance Research. Our performances were well-documented, as was our whole trip, by the amazing dance photographer Rose Eichenbaum. The photos sprinkling through this newsletter attest to the energy and light of the experience.
What else? When the week was over we split off to the islands, boat trips, swimming, and more temple sites on our own. I took off to Samos Island
to teach and perform for a lovely dance school there.
We were graciously hosted by a Greek-American Director of Samos School of Dance, Christina
Tsardoulias,
and we were so well-received that we are already making plans to return!
Teaching and spending time at Isadora's House -
now officially The Isadora and Raymond Duncan Dance Research Center - was magical. Athenian dancers joined our tribe that included 5 dancers from my Brazilian ensemble, and dancers from Portugal and Puerto Rico.
The Center Director Penelope Iliaskou wrote to me:
"We consider your classes at the Center a really valuable experience both for our teachers and the other dance artists in our community who participated... Your methodology is at the same time so rich in content and fluid in the
process, that I think all teachers from various disciplines of dance should have the occasion to get in contact your work... Belilove's Isadora? Our teachers would love to work with you further... Regarding the children's classes you offered, it was amazing how you could capture their attention and interest, get the best out of them, and fill them with joy - all of which they expressed as soon as they came out of the class. Thank you, Lori!"
Mark your calendars and join us next year!!

July 10-21, 2017
Dancing at the Isadora & Raymond Duncan Research Center was an incredible experience. To dance Isadora's dances in the very spot she chose to plant roots was unbelievable. Every morning I felt the same awe and disbelief that I was there absorbing her spirit and releasing my own. - Emily
I have always wanted to go to Greece so it was like a dream come true for me to see and experience one of the places that so inspired Isadora. I am so grateful to have had a week with Lori Belilove and The Company in Athens. It was filled with culture, learning, inspiration, friendship, and dancing. I can't wait to go back next year! - Faith
Dancing in Greece was a dream come true. All of a sudden the ancient stories came to life in the beautiful rocky, dry climate. And of course the food! So much olive oil, cheese and Greek yogurt! - Morgana
I guess it is good to be back home but there are so many things to miss about Greece. :) Thank you for leading such a magical adventure. - Danielle
I just wanted to thank you from my heart for the classes you gave in Athens, it was a wonderful experience for me, thank you for this gift to us. An enormous privilege and honor to have you as our teacher even for just a few days! I was really so happy to dance with you and your wonderful company in class and also watch you teach. So many thanks again for all and hope to see you very soon again in Athens. - Sandra
They say when the pupil is ready the teacher will appear... On a balmy evening last Wednesday at the 'Theatro Vrahon' in Athens, I met a wonderful group of dancers who were performing from New York. A very lovely lady, by the name of Lori, the artistic director of the company, invited me spontaneously to join her classes here in Athens. After some momentary hesitation, I said yes I would love to, and I took up the challenge of daring to go to class after 4 years
away from dancing. Lori, it was the best decision I ever made in this period in my life. Almost a decade ago I was told I should stop dancing, and following surgery I have persevered through a long period to find my fitness again and havegone through very long process of rehabilitation of my body. Your generosity and wonderful teaching, which you do with such poise, grace and humor is
simply fantastic and I thoroughly enjoyed
every moment. I particularly enjoyed the technique and discovering Duncan technique which is new to me...it was quite natural and I felt I could connect quite deeply. I wish you every success with continuing the amazing work you all do. Thank you for all your input, energy and inspiration, you truly are a rare artist and teacher. - Vicky
---
---
Dear Friends of Duncan Dancing,
We are proud to present this year's Dionysian Festival: Celebrating the 139th anniversary of Isadora Duncan's birth on Saturday, May 28th at 8 pm and Sunday, May 29th at 5 pm.

This progenitor of modern dance was born in San Francisco on May 26th, 1877, and The Mary Sano Studio is dedicated to keeping Isadora's art and spirit alive.

We are pleased to welcome back both neo classical pianist Benjamin Akeala Belew and singer/songwriter Tony Chapman who will perform their original songs as well as playing and premiering new work with our company.
We also are excited to announce new participants to this year's festival: painter Aisla and dancer/choreographer Megan Nicely. Ms. Nicely will perform her solo work and Sano is creating a new work with her group inspired by two of Aisla's paintings and original music by Chapman and Belew.
Please see our flyer below for details, and we look forward to celebrating with you!
The Mary Sano Studio of Duncan Dancing
To purchase tickets or make a reservation,
please contact us by email at
This email address is being protected from spambots. You need JavaScript enabled to view it.
or call us at
www.duncandance.org
---
LIVESTREAMING of Book talk: Isadora Duncan in the 21st Century with live dance demonstrations at Books and Books, April 15, 6:30 pm (Eastern Standard time).
You can watch from anywhere online via Livestream here: http://new.livestream.com/uainmedia
If you cant watch at exact livestreaming time, then you can click on website, then on my book and view at another time if you wish .Hope you can tune in!
http://livestream.com/uainmedia/andreamantellseidel
---
2015
Performance choreographed by Ms. Fatima Suarez
---
---
219px -129px no-repeat;">
Chicago is around the corner.
Remember to book conference events and hotels.
The Symposium starts in less than two weeks. As we enter the final countdown, we want to make sure everyone has all the information they need to have a wonderful time in Chicago.
The pre-conference tour of Millennium Park will be meeting at Joffrey Tower between3-3:15pm.
It's free but you have to This email address is being protected from spambots. You need JavaScript enabled to view it.. At 6pm we will meet up for informal drinks at the fabulous Palmer House Hilton.
On Saturday post-conference, we'll head to the Silversmith Hotel for a reception and dinner. You must RSVP and reserve your spot for both!
Reserve just the reception.
Reserve just the dinner.
Reserve both.
The Joffrey Tower has an amazing location in the midst of lots of Chicago's best places to eat and stay. Here is a growing map and list of restaurants, with the Joffrey Tower and our recommended accommodations on there as well. And of course, if you haven't booked your accommodation yet, here are our recommendations. The University Center is a great budget option that has recently opened up short stay reservations.
We're looking forward to seeing you very soon!
Warmly,
The IDIS Steering Committee
Valerie Durham
Meg Brooker
Jennifer Sprowl
Julia Pond
Copyright © 2015 Isadora Duncan International Symposium, All rights reserved.
You are receiving this email as a Duncan Dance practitioner and as a friend and colleague of the international Duncan Dance community.

Our mailing address is:

Isadora Duncan International Symposium

3220 N Street NW Suite 225

Washington, DC 20007
---
---
Workshops of the isadorian dance/
Stages de Danse Isadorienne
with/ avec Drachin von Terra
Where/OU ?
Centre Social des Bourroches, 71bis rue de la Corvé, 21000 Dijon, France. 03.80.41.19.64
When/QUAND ?
Saturday 25 April 2015/Samedi 25 Avril 2015
Saturday 6 June 2015/Samedi 6 Juin 2015
Who/QUI ?
The workshops are women only events. Dancers of all ages, dance backgrounds, and of all levels are welcome/
Stage de danse réservé aux femmes, tous niveaux/toutes disciplines.
How much/COMBIEN ? Contributions are welcome and will serve to finance our upcoming creations/Libre contribution. Les contributions servent à financer nos projets artistiques en cours.
Where go see ?/Photos,Video clips, Drawings of the isadorian Dance:
VOIR ? Photos, Films et Dessins de la Danse Isadorienne sur
For more information/RENSEIGNEMENTS
Tel.:00336. 32. 71. 94. 35
---
---
---
Artistes Femmes venez Esquisser la Danse Isadorienne ( AFEDI ) 8 Mars 2015
La 3e édition de l'Atelier
Artistes Femmes venez Esquisser la Danse Isadorienne
le Dimanche 8 Mars 2015
à l'occasion de la journée internationale des femmes.
Atelier de Danse Isadorienne avec Drachin von Terra
Musique Originale Composée et Orchestrée par Zed Terra
Avec le concours de la MJC Montchapet, Dijon.
Directrice Sandrine Carbonel.
Un geste de Solidarité entre Femmes Artistes
Nous invitons les artistes femmes ainsi que les étudiantes des Beaux Arts à venir trouver l'inspiration et dessiner le mouvement de la Danse Isadorienne pendant notre prochain Atelier AFEDI avec Drachin et avec toute Danseuse qui, grâce à cette invitation, vient partager l'aventure avec nous.
MJC Montchapet
1 ter rue de Beaune (participation à libre contribution)
21000 Dijon
AFEDI ( Women Artists sketch the Isadorian Dance), 3rd edition,
will take place on Sunday 8 March 2015, on international women's day.
in partnership with the MJC Montchapet, Dijon, Director Sandrine Carbonel.
---
---

The Isadora Duncan International Institute




Presents


Venice Carnevale:
Isadora Duncan and the Art of Festival


Venice, Italy




February 12-19th, 2015


We will convene in Venice, Italy for a Renaissance of Rapture on the festive days leading up to Carnevale to share in the sublime, spiritual and sense-deepening time devoted to ecstatic experience. Enjoy feasts together, attend musical concerts, (including an operatic experience at the majestic La Fenice,) visit museums and palazzi, pen our musings, sketch wonders in the City of Falling Angels, intone the language of great poets, thinkers and lovers, share illuminating moments in churches, synagogues and scuole (the art strewn guilds of the master craftsmen), travel to nearby islands laden with mystery, and revel in a traditional Carnevale. The IDII Dancers have been invited to perform at the Palazzo Pisani Moretta, named the most beautiful palazzo in all of Venice. Early mornings will begin in simple, dreamlike, warming exercises suitable for all, entitled, Body Soul Fluidities, at our quiet, spacious five star hotel.

Itinerary Highlights Include:

Cooking lesson and feast in an authentic Venetian home

Visits to art exhibits throughout the city

Seminar visits to museums, scuole, 'ca' and palazzi

Group attendance at theatrical and musical events

Performance opportunity within a sacred Venetian edifice

Isadora-inspired myth and movement studies

Excursions along Isadora's byways and waterways in Venice

Itinerary subject to change


Trip cost includes luxury accommodations for 7 nights, all seminar fees, daily breakfast, three festive celebratory meals, local transportation via vaporetto, group admissions to theatrical and music events, fees for excursions and itinerary highlights.


Total Cost: $3,150

Based on double-occupancy, single supplement extra. Airfare not included.


"The beauty of Venice is incomparable and profound - the impact of the 'Sacred Topographies' journey is eternally imprinted within my soul."
- Pamela W.
"Jeanne, you brought forth the sacred and the spiritual with your passion, depth of intuition and breadth of knowledge from a vast array of worlds. Thank you for an experience that has nurtured my soul, my creativity and essentially all areas of my life."
-Jacqueline P.

Spaces are limited and subject to availability. Call (212) 753-0846 or email This email address is being protected from spambots. You need JavaScript enabled to view it. for more information and to register.
You are receiving this email because of your interest in our organization.
Copyright (C) 2014 Isadora Duncan International Institute, Inc. All rights reserved.
---
Thierry ROLLET
Administrateur de production
Compagnie de Danse Hallet Eghayan
65/73 rue du Bourbonnais 69009 LYON (FRANCE)
Tel : 04 78 64 84 98 - fax : 04 78 64 87 60
Mobile : 06 71 63 95 36
Email : This email address is being protected from spambots. You need JavaScript enabled to view it.
Site web : http://ciehalleteghayan.org
---
2014
Invitation to the 2015 Isadora Duncan International Symposium
Discovering Duncan
June 11-13, 2015
at the Joffrey Tower
Chicago, IL, USA

We are now accepting proposals to present at the 2015 Isadora Duncan International Symposium....and Early Registration is officially open!
Attendance at the symposium is open to all practitioners and scholars of Duncan Dance and related techniques, including performance, choreography, repertory, education, research and scholarship, criticism, photography, visual and multimedia art and biography. We also welcome interested dance professionals and graduates.

FOR POTENTIAL PRESENTERS AND SPEAKERS
The 2015 Symposium theme is "Discovering Duncan." Isadora Duncan is often credited with many "discoveries" foundational to the development of modern dance: the relationship between breath and gesture, the use of weight and gravity, individual expression as valid dance content, and dance as a vehicle for social and political platforms. She is also credited with "rediscovering" the Greek dance aesthetic, and some credit her success to "being discovered" by producers and other artists from Augustine Daly to Loie Fuller.
Each of us has our own story of discovery and Duncan dance. What Duncan discoveries speak to and inspire you? What have you discovered through your Duncan practice? How can we rediscover Duncan now? How did you first encounter the Duncan work? How would you like to help others discover the work?
The symposium is an opportunity for Duncan Dance practitioners to demonstrate their methods and techniques, share important experience and knowledge, and present research and scholarship to a wider international Duncan community. It is also an opportunity for both presenters and participants to learn from each other in practical, theoretical, physical and artistic realms.
In crafting your proposal, please address the symposium theme. We will attempt to accommodate as many presenters as possible. You may submit more than one presentation for consideration. However, the number of slots may be limited due to scheduling and facility availability.
The conference working language is English.
We look forward to seeing you in Chicago!
Warmly,
IDIS Steering Committee
Valerie Durham, MFA
Meg Brooker, MFA
Jennifer Sprowl
Julia Pond
Registration
All attendees, including presenters, must register for the symposium. Symposium registration is $195 for the three-day event, and all sessions are open to all attendees. Register byMarch 1, 2015 and pay just $160. Please click here to register. Accommodation, location and other information about the conference is available on the Symposium Information page.
Proposal Deadline:

November 15, 2014
SUGGESTED PRESENTATION FORMATS:
practical workshop/master class
reading/lecture/presentation
panel discussions
roundtable discussions with moderator
informal showings of choreography, repertory and works in progress with discussion sessions
video showings
other formats suggested by the presenter can be considered
To submit your proposal, please see the submission guidelines.
---
Press Release
A Benefit for The Somona Theater Alliance
Event: A Revolution in Aesthetics, "The Dance Legacy of Isadora Duncan" (1877-1927)
Description: Lois Flood will perform the historical dances of Isadora
Duncan. Included will be, lyrical and dramatic dances, inspired by the classical aesthetic dance
movement of Isadora Duncan. The dances are lively and expressive. A stunning selection of
classical music expresses a potpourri of dance styles, lyrical to the revolutionary.
Greek myths are the theme of many dances. Marjorie Lynn Wagner,
poet-artist, will read quotes by Isadora Duncan.
The Dance Legacy of Isadora is culturally enriching and entertaining. All ages will enjoy these exquisite, historical dances from the repertory of Isadora Duncan. Costumes are designed of flowing silk. There will be questions answered at the end of the program.
"To awaken human emotion is the highest level of Art" - Isadora Duncan
Location: Sonoma Community Center, Andrew Hall, 276 E. Napa Street
Admission: Free, Donation Appreciated,
---
Saturday, August 16 6:00 p.m. - 7:00 p.m.
Alice Austen House
2 Hylan Boulevard (at Edgewater Street) Staten Island, NY 10305
$10 suggested donation
Monday, August 18, 6:00 p.m. - 7:00 p.m.
Robert F Wagner Junior Park
20 Battery Place
New York, NY 10280
Saturday, August 23, 7:30 p.m. - 9:00 p.m.
Untermyer Estate Park
Yonkers, NY
Or catch us in September!

We will be part of Sorry I Missed Your Show, a dance (on) film screening, discussion, and performance series that provides opportunities to view historical works or dance documentaries, at Gibney Dance Center on Wednesday, September 17, 6:30 PM. Come see rare Duncan footage and participate in a Q&A with Lori!

Not on our mailing list?

Join today at:

This email address is being protected from spambots. You need JavaScript enabled to view it.
---
A Revolution in Aesthetics
"The Dance Legacy of Isadora Duncan" (1877-1927)

Description: Lois Flood will perform dances lyrical and dramatic, inspired by the classical aesthetic dance
movement of Isadora Duncan. The dances are lively and expressive. A stunning selection of
classical music expresses a potpourri of dance styles, lyrical to the revolutionary.
Greek myths are the theme of many dances. A guest narrator, Marjorie Lynn Wagner will read quotes by Isadora Duncan.
The Dance Legacy of Isadora is culturally enriching and entertaining. All ages will enjoy these exquisite, historical dances from the repertory of Isadora Duncan. Costumes are designed of flowing silk.
"To awaken human emotion is the highest level of Art" - Isadora Duncan
We will also Celebrate the life of Vallejo Native Daughter, Lodena Edgcumbe
Location: Vallejo Naval and Historical Museum, 734 Marin Street, Vallejo
---
Register now for the Isadora Duncan International Institute's August Summer Study Dance Intensive at Tempio di Danza, High Falls, NY

Email not displaying correctly?
View it in your browser.
Isadora Duncan: In Lasting Luminescence




Intensive Dance Workshop

Tuesday August 5 through Saturday August 9th, 2014
Announcing the Isadora Duncan International Institute's
August Summer Study Dance Intensive at
Tempio di Danza, High Falls, NY
Image after Maurice Denis
Program open to all General Students and Candidates in the Certificate Program in Isadora Studies I: The Training
August Summer Study includes workshop sessions at Tempio di Danza and in select outdoor locations.
Final optional performance opportunity at The Actor's Fund Home on Sunday, August 10th at 2:30 in Englewood, New Jersey.
For more details call (212) 753-0836 or email

This email address is being protected from spambots. You need JavaScript enabled to view it.
This email was sent to //

This email address is being protected from spambots. You need JavaScript enabled to view it.

" target="_blank">

This email address is being protected from spambots. You need JavaScript enabled to view it.


why did I get this? unsubscribe from this list update subscription preferences
Isadora Duncan International Institute, Inc. · 150 East 61st Street · Suite 11C · New York, NY 10065 · USA
---
Join us for an enchanted evening and see the gardens illuminated with lanterns and decorated by magical faeries. Stroll, relax and enjoy music and dance performances.

Over 20 cast members dressed in Greek, Roman, and Renaissance-themed tunics and drapery will guide audience members from scene to scene throughout the grounds. Greek mythology will be used as thematic reference points for a variety of dance vignettes, including the Three Graces, Narcissus, Homage to Apollo and Dionysus, Tanagra Waltz, Dance of the Furies. Musical selections will vary from modern composers Brian Eno and Enya to classical favorites such as Chopin, Schubert, and Gluck.

Tickets Online $12.00/ $9.60 member

Photo by Anthony Schmidt

Photo by Katalin Garbutt

Photo by Mark Sadan

Nature sparks creativity. Just listen to the poets, the artists, the musicians. Nature stimulates curiosity. Astronomers, botanists, and scientists have done endless explorations to crack her secrets. People have been dancing and moving in nature since the beginning of time drawing inspiration from nature's power and beauty to uplift the soul.
Come and be enchanted and experience the power and beauty of these unique gardens. This is an opportunity to open your playful heart!
If the photography and video images don't entice you, the next newsletter might!
The first time I came to the gardens I thought I had entered a "Mini-Versailles" landscaped garden, then I learned that the family who designed the gardens did so for dramatic outdoor games and adventures for their numerous children, and my whole experience fell into place. Ah ha! From the Greek Colonnade and reflecting pool to the sculptures, ponds and fountains, each area proved a delight more wonderful than the one before. The Gardens also hosted tournaments and horse races and fetes galore in the grand style of early 19th century entertaining.
When you come (as certainly you are coming!!), wander the "Cottage Garden" with the thatched huts and find the Furies lurking, the "Lilac Walk" that leads into the dancing meditation is set in the rose garden to the live music of the hammered dulcimer played by Max ZT. Improvisations and vignettes in the "Walled Garden" lead you to the more dangerous dancing in and around the gazebo pond.
The open space of the "South Lawn" is as enormous as a football field with the dramatic backdrop of the estate itself. Here we dance the finale movement from Schubert's 9th symphony "The Great" to homage to the goddess of the hunt Diana.
In creating the evening I looked to the grounds as both tamed and choreographed alternating with chaotic, wild, overgrown nature.
With the glorious backdrop of the gardens, the dancers move in both choreographed synchronicity and wild improvisational abandon - like a dream!
Every section of the gardens, immaculately kept, invites meditations on beauty. Bring your playful heart, a picnic, friends and family, and enjoy an extraordinary evening.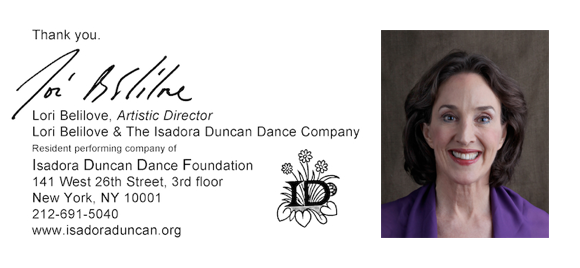 ---
The dance of the future - Sacred dance and music in tribute to
Philopappou Hill, Athens, Greece
---
Save the Date!

After the success of the first Isadora Duncan International Symposium in June 2013, and the continued bubbling of activity in the larger community that's followed, we are proud to announce the dates and venue for the second Isadora Duncan International Symposium: Discovering Duncan.

Join us June 11-13, 2015 at the Joffrey Academy of Dance in Chicago. We'll convene on the former site of the Masonic Temple where Isadora danced in 1895 at the outset of her career. During the three day conference we will delve into the idea of discovery: new historical insights, present-day issues around Duncan performance and scholarship work, and new visions for the future. We love that we have the opportunity to do this on the spot where Isadora was, in a way, 'discovered'.

The conference is open to all practitioners in the art of Isadora Duncan, in the fields of dance performance, choreography, scholarship and education, history and criticism, dance therapy, photography, visual arts, music, and more. Participants will have the opportunity to present, discuss and, of course, dance, in a variety of masterclasses, panel discussions, choreographic showings, and more...including a final reception and celebration, venue TBD.

Mark your calendars and keep your eyes peeled for the registration details and call for presentations coming soon!

Warmly,
The IDIS Steering Committee
Valerie Durham, MFA
Meg Brooker, MFA
Jennifer Sprowl
Julia Pond
---
1926